Another Supply of Cool Air in July
MONROE / EL DORADO --
As an upper trough deepened across the eastern half of the nation, cooler summer air has once again pushed into the ArkLaMiss over the last week. This has led to over a dozen new temperature records in our viewing area.
Just like the previous July cool spell, we have seen record low morning temperatures. This was thanks in part to surface high pressure that kept overnight skies clear with drier air, allowing temperatures to cool quickly at night. Daytime high temperatures have only been able to warm into the 70s thanks to abundant cloud cover and rain later in the week.
Next week's forecast calls for warmer weather to come our way for the first full week of August. So, here's a breakdown of all the record temperatures from the last week:
TUESDAY JULY 29th:
Vicksburg beat the old record of 64 set in the 1994. Monroe & Texarkana came within a few degrees of their record low temperatures.
WEDNESDAY JULY 30th:
Monroe, Greenville, & Vicksburg all set new record low temperatures. Monroe's old record low was 65 set in 1971.
THURSDAY JULY 31st:
Texarkana, El Dorado, Greenville, Shreveport, and Vicksburg all recorded the coolest high temperatures ever seen on a July 31st.
FRIDAY AUGUST 1st:


El Dorado, Texarkana, Greenville, Monroe, and Vicksburg all recorded the coolest high temperature ever seen on an August 1st. In Monroe, 72 is the coolest high temperatures ever seen in the month of August (old record was 76 set back in the 1990s)
SATURDAY AUGUST 2nd:


El Dorado and Monroe tied the record for coolest high temperatures seen on an August 2nd. Other locations were only a few degrees warmer than their record coolest high temperature.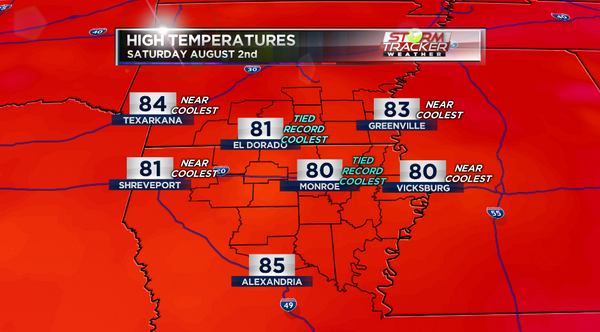 A mandatory evacuation was ordered and classes canceled as hundreds…

World leaders gathered here engaged in a heated argument over…

Good Friday morning, it's a nice start outside today in the ArkLaMiss.…